Refactoring

The requirements for software change constantly and so does the software itself. We all strive to adapt our software to new requirements as fast as possible – no matter if those are business or technical requirements.
Without taking care throughout the process of extending software we often end up with software where it is hard to improve – even to just fix bugs. When this happens one should, at the very latest, start to refactor the existing code. Knowing how to refactor without breaking your software will even lead your own developers to continuously improve the software.
Refactoring is the technique of improving the internal aspects of code without changing its external behaviour. We can clean up the structures and side effects while the software continuous to work just like it did before. The positive effect of this clean up is faster and cheaper development afterwards, and maybe even faster code.
What Can Be Done?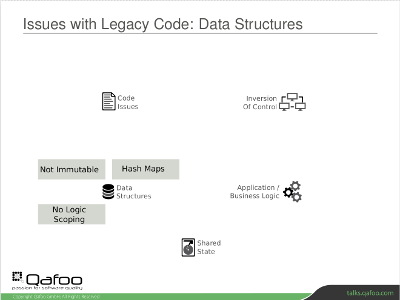 Bejamin speaking about Refactoring at the International PHP Conference
For the really hard cases where development is basically stalled experts from Qafoo can refactor your software so your developers will again understand what happens on the inside. Without breaking the application at all.
We can also teach developers how to refactor themselves. This enables them to continually improve the software and keep it in a maintainable state. Common topics in a refactoring workshop are:
How to ensure that existing functionality does not break
Basic refactoring techniques
What state do we want to reach
What are the most common problems with grown code
What tools exist to find the bad parts
Advanced refactoring techniques
Stay up to Date With Our Newsletter
We are offering a newsletter with technical articles you can register for right now.
We Can Help
Qafoo successfully refactored code for and with several companies to get their developers productive and efficient again. We understand that there are different refactoring goals depending on the type of software and the target audiences. We work together with companies to find their ideal way.
The longer you wait without refactoring your code, the more tangled up your software gets, the more expensive will it be to clean up. So teach your developers now how to refactor and get a clean state again. We can kick start the refactoring by cleaning up together with your developers.
Blog
Technical insights in our blog.
Get In Touch!