Performance & Load Tests

A slow web application does not only annoy your users but will immediately loose you money. It is well document now that users will just leave slow online shops. Even worse, search engines do rate slow website lower. Thus the performance of websites should be improved.
But there is more to it. A website might be fast when testing it, but will it still be fast when hundreds or thousands users will access it the same time? Are you sure that the website will hold against the stampede of users during Easter or Christmas shopping? Will your database servers just burn down?
To ensure your website is fast you must simulate real user behaviour. It is not sufficient to just access the front page really often. In an online shop, for example, you will want to emulate user registrations, user logins and even complete checkouts.
What Can Be Done?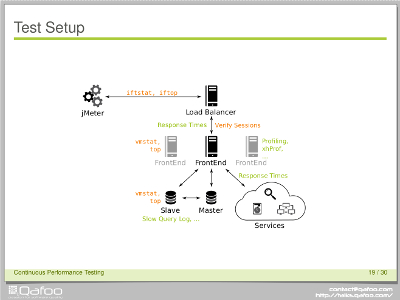 Kore speaking about Performance Tests at Confoo.ca
Qafoo can analyze, together with developers and business, what usage patterns exist on your website and simulate them with tools like Apache jMeter. With this knowledge we can simulate the expected traffic or try what the maximize the amount of traffic your system can sustain.
Based on such a load test we can analyze the setup and find first optimization. Issues in such a setup start with common bottlenecks in your PHP code but can also affect the IO or network stack. A common agenda for a performance analysis is:
Analyze the usage patterns of a website
Define performance goals
Model user behaviour with defined and adaptable parameters
Run performance tests and analyze how the stack behaves
Discover first optimizations, if necessary
Stay up to Date With Our Newsletter
We are offering a newsletter with technical articles you can register for right now.
We Can Help
Qafoo did performance analysis for a several large website prior to re-launches or after failed launches. We helped customers to go live without any performance issues. We work together with business and developers to find suitable tests and performance goals for a platform to make sure the setup costs stay sane.
Performance tests should be executed before a launch to not be sorry afterwards. We want to save you from a failed launch and the resulting costs. Executed repeatedly during the development of a new application it can even discover performance problems early on. Get in contact now so that we can analyze how we can ensure together that you website is fast and responsive.
Blog
Technical insights in our blog.
Get In Touch!