Software-Metriken: Purismus vs. Pragmatismus
Statische Codeanalyse und Softwaremetriken liefern eine Fülle von Daten die eine Abschätzung der Codequalität erlauben. Derlei Abschätzungen sind aber nicht immer einfach und die Interpretation von Metriken stark projekt-abhängig. Diese Session stellt die wichtigsten Metriken vor und diskutiert deren Interpretation anhand praktischer Beispiele. Diskutieren Sie mit und lernen Sie mit Hilfe statischer Codeanalyse die Qualität Ihres Quellcodes effektiv abzuschätzen.
Watch online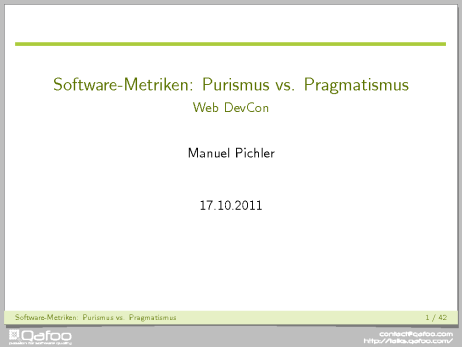 Get Technical Insights With Our Newsletter
Stay up to date with regular new technological insights by subscribing to our newsletter. We will send you articles to improve your developments skills.