PHP-Architekturmuster: Vom Entwicklerbaukasten zur Enterprise-Plattform
50% bis 80% aller Webseiten setzen PHP ein – dazu gehören einige der Größten der Welt. Warum ist das der Fall und wie kann man PHP in großen Setups einsetzen? Wir werfen gemeinsam einen Blick auf die architekturalen Eigenschaften von PHP und es werden übliche Architekturmuster der PHP-Welt vorgestellt um zu zeigen wie sich damit auch die größten Web-Applikationen betreiben und skalieren lassen. Nach diesem Vortrag werden Sie wissen, wann und wie sich PHP im Enterprise-Umfeld einsetzen lässt.
Watch online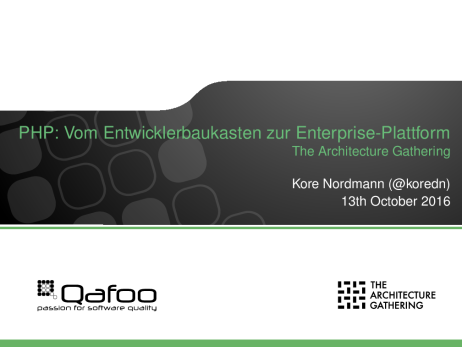 Get us on-site
Wenn Sie Beratung zu optimalen Architekturen für Ihren Anwendungsfall suchen, können wir Ihnen weiterhelfen – zum Beispiel mit einem Workshop vor Ort.
Get Technical Insights With Our Newsletter
Stay up to date with regular new technological insights by subscribing to our newsletter. We will send you articles to improve your developments skills.