Wie Wir Code Analysieren
Wir machen häufig Code Reviews zusammen mit unseren Kunden wobei nicht nur der Code selbst analysiert wird sondern inbesondere auch das Software-Design und die Strukturen des Codes. Ich werde zeigen wie das auch mit komplett fremdem Code gelingt und schnell notwendige lokale und strukturelle Refaktorisierungen indentifizieren kann. Wir werden übliche Metriken diskutieren und wie diese berechnet werden können. Der Vortrag wird dem Zuhörer alles an die Hand geben um solche Analysen selbst durchführen zu können.
Watch online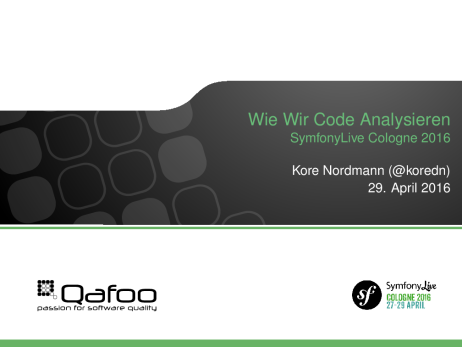 Get us on-site
Qafoo kann bei Sie Code-Reviews und anstehenden Refactorings unterstützen: Workshop: Object Oriented Design.
Get Technical Insights With Our Newsletter
Stay up to date with regular new technological insights by subscribing to our newsletter. We will send you articles to improve your developments skills.