Doctrine 2 - Einführung und Best-Practices
für PHP. Doctrine 2 ermöglicht die strikte Trennung von Persistenz und objektorientierter Domänenlogik durch die Nutzung des Data-Mapper Patterns. Der Vortrag teilt sich in eine Einführung der Konzepte und Möglichkeiten in Doctrine 2 und einer Erläuterung der Best-Practices in Bezug auf Testbarkeit und Erweiterbarkeit von Anwendungen auf Basis von Doctrine 2.
Watch online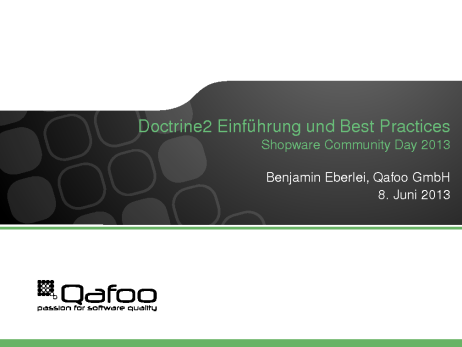 Get us on-site
No developer can work professionally on an object oriented project without sound knowledge on object oriented design. OOD provides you with the flexibility and testability needed for sustainable code. No matter if your team wants to get started with or already performs automatic testing, solid skills are the way to long-term success. Boost your team's expertise by an inhouse training on object oriented design with an experienced Qafoo expert.
Get Technical Insights With Our Newsletter
Stay up to date with regular new technological insights by subscribing to our newsletter. We will send you articles to improve your developments skills.