Pragmatical REST
REST etabliert sich als Standard für Web-APIs. Aber was ist REST eigentlich? Was braucht man zur Umsetzung eine sinnvollen Programmier-Schnittstelle? Und welche paradigmen lassen sich wirklich sinnvoll einsetzen? Dieser Talk gibt Aufschluss …
Online ansehen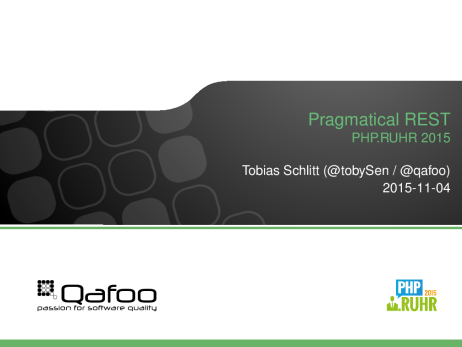 Qafoo-Experten buchen
Die kosten-effiziente Umsetzung einer nachhaltigen REST-Schnittstelle oder REST-basierten Architektur birgt viele Fallstricke. Vermeiden Sie diese von vorne herein, indem Sie einen Qafoo-Experten hinzu ziehen.
Get Technical Insights With Our Newsletter
Stay up to date with regular new technological insights by subscribing to our newsletter. We will send you articles to improve your developments skills.