Software Quality in PHP?
Ein Überblick über die Möglichkeiten, Ziele und Anwendung von automatisierten und manuellen Qualitätssicherungsmaßnahmen in PHP-Projekten. Neben automatisierter Testmethoden werden unter anderem die Nutzung von Software-Metriken und die Homogenisierung der technischen Infrastruktur durch Maßnahmen der Dev-Ops-Bewegung vorgestellt.
Watch online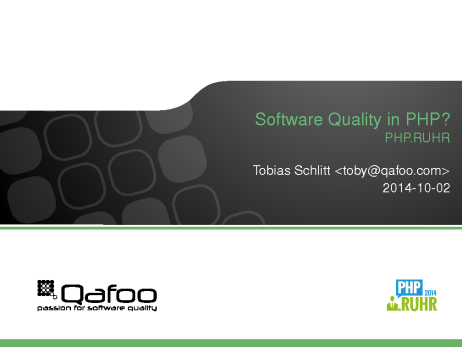 Download the PDF, it contains a useful links for further reading.
Get us on-site
Qafoo trains and coaches teams in various aspects of PHP software quality.
Get Technical Insights With Our Newsletter
Stay up to date with regular new technological insights by subscribing to our newsletter. We will send you articles to improve your developments skills.