Monolith First
Microservices architectures are all the hype at the moment we have seen a lot of green-field projects starting with a Docker-based microservices setup from the start, causing unnecessary complexity and slowdowns for the dev team. In this talk we want to argue against the current Zeitgeist and convince you that starting with a Monolith first is always the better choice. We will discuss benefits and downsides of Monolith vs Microservice systems, how to migrate from one to the other when the need arises and throw in some real-life experiences we had over the years.
Watch online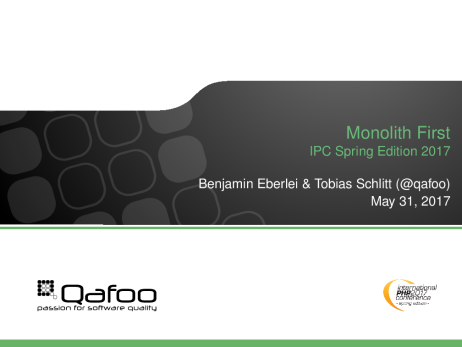 Get us on-site
Building a sensible monolith first to be able to refactor into a micro service architecture later requires some skills. Boost your team with a Qafoo workshop on refactoring and other skills to avoid pitfalls.
Get Technical Insights With Our Newsletter
Stay up to date with regular new technological insights by subscribing to our newsletter. We will send you articles to improve your developments skills.