Stabile Software in volatilen Umgebungen
Wie lässt sich heute effizient Software entwickeln, die mit den sich schnell ändernden Marktbedingungen mithalten kann und trotzdem unanfällig gegenüber Fremdsystemen ist? Aus unserer Erfahrung in Zusammenarbeit mit Oxid, Shopware, Spryker sowie mehreren Agenturen stellen wir dar, welche Softwaremuster die meisten Probleme verursachen, und wie sich stabile und gut getestete Software effektiv entwickeln lässt. Angedeutet wird zudem ein Weg, wie sich existierende Software dahin entwickeln lässt.
Watch online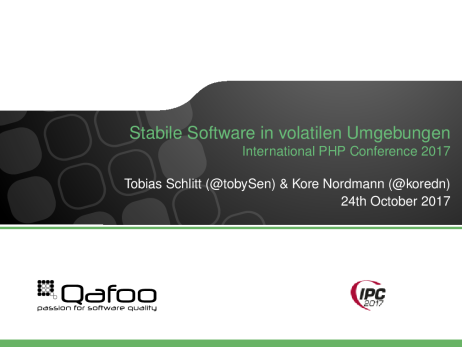 Get us on-site
Qafoo unterstützt Ihr Team individuell bei der Stabilisierung und dem Refactoring der Code-Basis.
Get Technical Insights With Our Newsletter
Stay up to date with regular new technological insights by subscribing to our newsletter. We will send you articles to improve your developments skills.